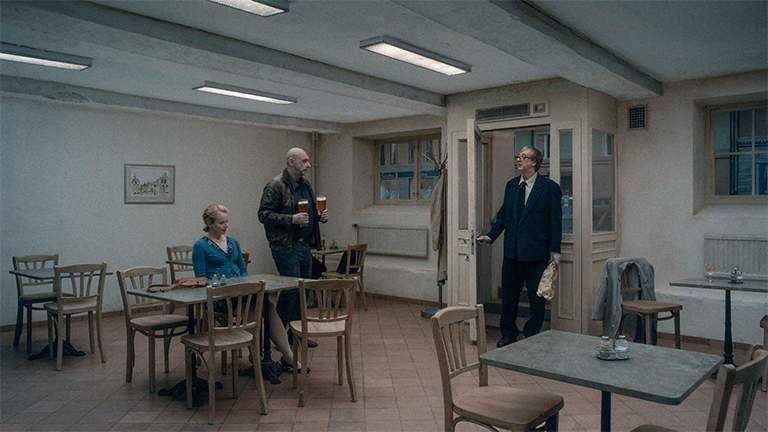 SUMMARY
With About Endlessness, Roy Andersson adds to his cinematic oeuvre with a reflection on human life in all its beauty and cruelty, its splendour and banality. We wander, dreamlike, gently guided by our Scheherezade-esque narrator. Inconsequential moments take on the same significance as historical events: a couple floats over a war-torn Cologne; on the way to a birthday party, a father stops to tie his daughter's shoelaces in the pouring rain; teenage girls dance outside a cafe; a defeated army marches to a prisoner of war camp. Simultaneously an ode and a lament, About Endlessness presents a kaleidoscope of all that is eternally human, an infinite story of the vulnerability of existence.
FESTIVALS
Venice Film Festival 2019
ABOUT THE DIRECTOR
Roy Andersson's first feature A Swedish Love Story (1970) won the main prize at the Berlinale IFF 1970. Giliap (1975), his second film, was presented at the Directors' Fortnight in Cannes 1976. In 1975 he started making unusual and very successful commercials, which won a total of eight Golden Lions at Cannes. In 1981 he founded Studio 24 in order to produce and make his films in total freedom. After Something Happened (1987) and World of Glory (1991), two shorts that returned with the most prestigious awards (a.o. Clermont-Ferrand), he shot Songs from the Second Floor in his studio (March 1996-May 2000) and won the Special Jury Prize in Cannes 2000. You, the Living (2007) won several international awards as well as the Guldbagge Award for Best Director, Best Screenplay and Best Picture. A Pigeon Sat on a Branch Reflecting on Existence (2014), his fifth feature film, was awarded the Golden Lion in Venice.